Rail News: Canadian Pacific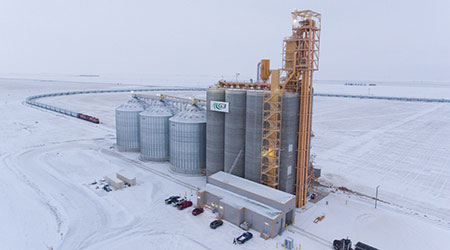 Canadian Pacific yesterday unveiled its first 8,500-foot high efficiency product (HEP) grain train at G3 Canada Ltd.'s Pasqua elevator near Moose Jaw, Saskatchewan.

The HEP train features more efficient hopper cars and is designed to move about 44 percent more grain than the Class I's prior generation of grain train. The new hopper cars feature a capacity 10 percent greater by weight than older-model Canadian government cars, and can hold 15 percent more volume.
Written by David Burroughs, News & Features Writer, International Railway Journal
Wkikpedia/Wakasui
The Translink Mayors' council, which oversees Metro Vancouver's public transport operator, has voted to suspend the C$1.65 billion ($1.2 billion) development of a light rail network in Surrey, the second-largest city in British Columbia.
The Council instead favors the extension of Vancouver's SkyTrain automated metro network through the city which is expected to cost up to C$2.9 billion.
Rail News - CN orders 60 more GE locomotives. For Railroad Career Professionals
CN orders 60 more GE locomotives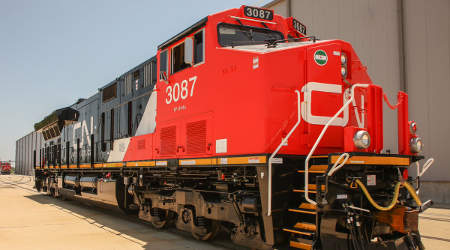 Federal government and province commit more than $3B for Broadway subway project and Surrey LRT
The federal and provincial governments re-announced their commitment Tuesday to more than $3 billion in funding for the Broadway subway and Surrey LRT projects.
Prime Minister Justin Trudeau was joined by B.C. Premier John Horgan, Vancouver Mayor Gregor Robertson and Surrey Mayor Linda Hepner at the Surrey campus of Simon Fraser University.
Trudeau confirms $1.37B in federal funding for Metro Vancouver transit projects | CBC News
Rail News - Canada issues funds for Thunder Bay port project. For Railroad Career Professionals