CN to appeal Canadian agency's ruling on freight-rail service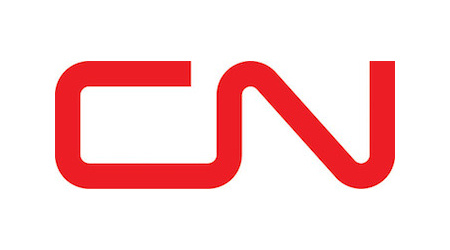 CN will appeal a Canadian Transportation Agency (CTA) ruling issued yesterday that determined the Class I had breached its freight-rail service obligations last year in Vancouver, British Columbia.

The CTA found that CN violated its service obligations by announcing its intention to impose embargoes on wood pulp shipments in September 2018, several months before rail congestion and other challenges emerged in the Vancouver area. The Class I imposed those embargoes in December 2018, "rather than making every reasonable effort to deal with those challenges before unilaterally restricting the transportation of the shippers' traffic," according to a CTA press release.

The CTA began its investigation in January based on information from shipper associations and other parties. Two other railroads that were investigated — Canadian Pacific and BNSF Railway Co. — did not breach their service obligations, CTA officials said.


CN, the Canadian government and Vancouver Fraser Port Authority have signed an agreement calling for upgrades to the Burrard Inlet rail corridor that serves the south shore port area in Vancouver.

The work is necessary to increase capacity on a critical segment of trade infrastructure in the Vancouver area, according to a press release. The project calls for double tracking a 2.5-mile section of rail that links expanding import and export terminals on the Burrard Inlet's south shore to the national rail network.

By building a second track, CN will increase rail capacity, which will improve rail-traffic flow in and out of the port, as well as improve supply chain efficiency, CN officials said.
INTERNATIONAL: The European Commission has blocked the proposed merger of Siemens Mobility and Alstom, saying the companies had not offered sufficient remedies to address its concerns about the impact on competition in the signalling and very high speed train markets.
'Siemens and Alstom are both champions in the rail industry', explained Commissioner in charge of competition policy Margrethe Vestager when she made the announcement on February 6. 'Without sufficient remedies, this merger would have resulted in higher prices for the signalling systems that keep passengers safe and for the next generations of very high speed trains. The Commission prohibited the merger because the companies were not willing to address our serious competition concerns.'
CN, in reporting financial and operating results for fourth-quarter and full-year 2018, noted that the year ended on a strong note, "driven by solid top-line growth and significantly improved operating efficiency."
Fourth-quarter 2018 compared to fourth-quarter 2017
Revenues of C$3.81 billion, an increase of 16%.
Diluted EPS of C$1.56, a decrease of 55% and adjusted diluted EPS of C$1.49, an increase of 24%. Included in diluted EPS in the fourth quarter of 2017 was a deferred income tax recovery of C$2.35 per diluted share resulting from the enactment of a lower U.S. federal corporate income tax rate.
Operating margin of 38.1%, an increase of 0.8 points (operating ratio of 61.9%).

)

Adjusted operating margin of 38.8%, an increase of 1.5 points (adjusted operating ratio of 61.2%).
Operating income of C$1.45 billion, an increase of 19%.

(2)
Rail News: Canadian Pacific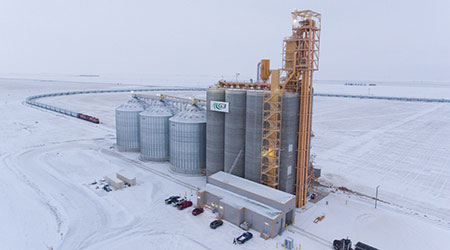 Canadian Pacific yesterday unveiled its first 8,500-foot high efficiency product (HEP) grain train at G3 Canada Ltd.'s Pasqua elevator near Moose Jaw, Saskatchewan.

The HEP train features more efficient hopper cars and is designed to move about 44 percent more grain than the Class I's prior generation of grain train. The new hopper cars feature a capacity 10 percent greater by weight than older-model Canadian government cars, and can hold 15 percent more volume.
Written by David Burroughs, News & Features Writer, International Railway Journal
Wkikpedia/Wakasui
The Translink Mayors' council, which oversees Metro Vancouver's public transport operator, has voted to suspend the C$1.65 billion ($1.2 billion) development of a light rail network in Surrey, the second-largest city in British Columbia.
The Council instead favors the extension of Vancouver's SkyTrain automated metro network through the city which is expected to cost up to C$2.9 billion.
Rail News - CN orders 60 more GE locomotives. For Railroad Career Professionals
CN orders 60 more GE locomotives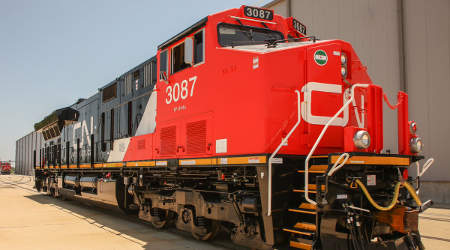 Federal government and province commit more than $3B for Broadway subway project and Surrey LRT
The federal and provincial governments re-announced their commitment Tuesday to more than $3 billion in funding for the Broadway subway and Surrey LRT projects.
Prime Minister Justin Trudeau was joined by B.C. Premier John Horgan, Vancouver Mayor Gregor Robertson and Surrey Mayor Linda Hepner at the Surrey campus of Simon Fraser University.
Trudeau confirms $1.37B in federal funding for Metro Vancouver transit projects | CBC News
Rail News - Canada issues funds for Thunder Bay port project. For Railroad Career Professionals