An affiliate of Brookfield Asset Management Inc. agreed to buy Genesee & Wyoming Inc. for about US$6.3 billion, expanding its global portfolio of rail companies with a 120-line network spanning North America, Europe and Australia.
Brookfield will pay US$112 a share in cash, a 40 per cent premium from G&W's close on March 8, the last day of trading before Bloomberg News reported that the railroad operator was exploring a possible sale. The stock rose 8.5 per cent to US$108.46, an all-time high, at 9:54 a.m. Monday in New York.
Written by David Burroughs, News & Features Writer, International Railway Journal
Wkikpedia/Wakasui
The Translink Mayors' council, which oversees Metro Vancouver's public transport operator, has voted to suspend the C$1.65 billion ($1.2 billion) development of a light rail network in Surrey, the second-largest city in British Columbia.
The Council instead favors the extension of Vancouver's SkyTrain automated metro network through the city which is expected to cost up to C$2.9 billion.
Written by William C. Vantuono, Editor-in-Chief
Canadian Pacific and Taiwan-based Yang Ming Marine Transport Corp. have entered into a three-year partnership to connect Yang Ming customers with North America via the Port of Vancouver in British Columbia.
Effective Jan. 1, 2020, CP will handle all of Yang Ming's Vancouver-bound container traffic. The agreement also provides synergies across THE Alliance, which includes ocean carriers Hapag-Lloyd, Ocean Network Express (ONE) and Yang Ming. These companies will be moving traffic, in whole or in part, on CP out of Canada's largest ocean terminal, Global Container Terminal (GCT) Deltaport.
Rail News - CN orders 60 more GE locomotives. For Railroad Career Professionals
CN orders 60 more GE locomotives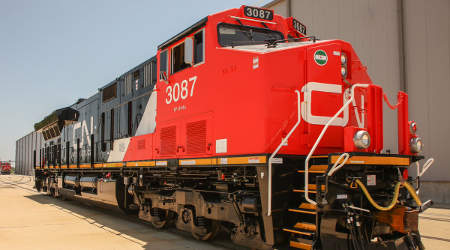 Davanac in the last year has acquired three machines from Rosenqvist. They have a CD200 E-Clip available for rental, as well as a SB60 and a SL400 for sale. Recently Davanac rented their CD200 to Rail Cantech, a local contractor who are completing a special project at the Canadian Science and Technology Museum located in Ottawa. Rail Cantech was very pleased with the performance of the machine, which was used to clip over 100 concrete ties as well as another 100 steel ties both with E-Clip Fasteners. They stated that the application saved them a lot of time and also served as an efficient way not to damage concrete ties with hand tools.
Federal government and province commit more than $3B for Broadway subway project and Surrey LRT
The federal and provincial governments re-announced their commitment Tuesday to more than $3 billion in funding for the Broadway subway and Surrey LRT projects.
Prime Minister Justin Trudeau was joined by B.C. Premier John Horgan, Vancouver Mayor Gregor Robertson and Surrey Mayor Linda Hepner at the Surrey campus of Simon Fraser University.
Trudeau confirms $1.37B in federal funding for Metro Vancouver transit projects | CBC News
Davanac sales team in front of Rosenqvist CD200, From the left: Luigi Covello,
Stephen Broderick, Adam Drescig, Allan Grant
In February 2018, Davanac and Pandrol signed a multi-year distribution agreement allowing Davanac exclusive rights to the Rosenqvist and Matweld product lines. We all believe this to be a great partnership, Pandrol selected Davanac as partners due to shared values in terms of safety, innovation and quality of service. Davanac has been supplying Canadian Railroads and Rail Contractors with the highest quality and safest Maintenance of Way products since 1920. Davanac is committed to provide superior customer service and field support. Headquartered in Montreal, Quebec they are recognized as leaders for distributing Work Equipement Tools, Wear-Parts, Abrasives, Arema Track Tools and Mechanical Shop Tools. A second location in Calgary, Alberta assures their customers have full coverage across the entire Canadian market.
Rail News - Canada issues funds for Thunder Bay port project. For Railroad Career Professionals
Locomotive Audio, Video and Data Recorders
Today's train operations, both freight and passenger, have complex operating processes of which many still require human skills and intervention.
Whether it is the locomotive conductor, train dispatcher or other support workforce, the daily rail operations are done by people.
Over the years, the improved performance of railway operations has increased the demand for more railway transportation services. This increase demand is putting a challenge on today's rail operations, hence more advanced control and safety systems are being implemented to handle the daily operations.
Despite the many automated systems already in place, there are other control systems available to make railway operations more reliable, maintainable and safe.
On modern trains, multiple railway systems are deployed to ensure safe railway operation. Each system has a dedicated function to fulfil during the operations of the train (e.g., signalling, propulsion, HVAC, lights, etc.).
Today's technology allows on-board electronic systems to support and maintain the railway operations in a proactive way, maintenance is done in a more predictive manner instead of a corrective one.
Locomotive audio, video and data recorders can help us understand why an accident happened.